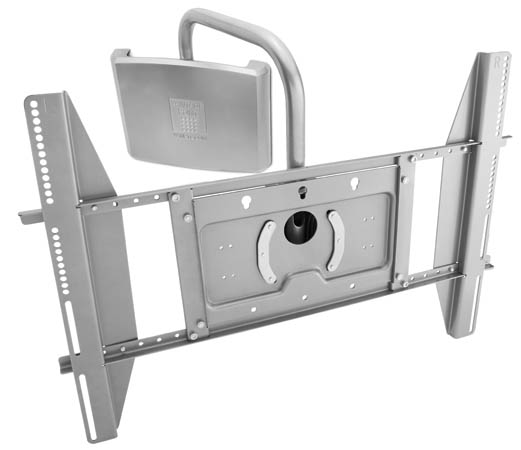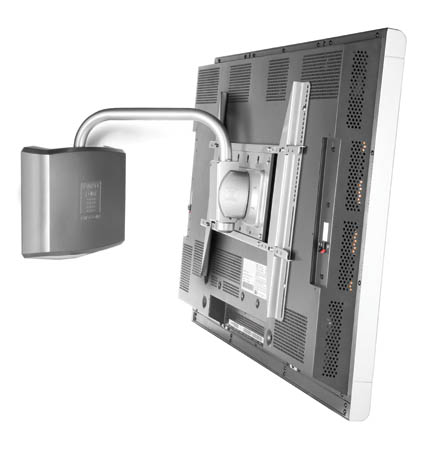 50" - 83" Universal Articulating Flat-Panel Mount
The A83 articulating supports larger flat panels 50"- 83" in size up to a maximum weight load of 200 lbs. The mount has been engineered with a double stud wall plate that allows the articulating arm to pivot in five different positions for the optimum viewing angle. The pivot points on the wall plate and arm allow for lateral positioning up to 180 degrees and tension collars on both ends create resistance to articulation if desired.
The A83 has a shallow profile extending approximately 4.5" away from the wall when pushed flat. The arm allows for wire management so the finished installation is aesthetically clean. The cover has been designed with a huge capacity for storing plenty of wires and cables, even extension cords to complete the through wiring.

The A83 comes with a universal adapter for 200mm x 200mm, and 200mm x 400mm hole patterns. The adapter can be removed so the flat panel can be mounted directly to the plate resulting in a cleaner looking installation.

| | | |
| --- | --- | --- |
| | Description: | 50" - 83" Universal Articulating Flat-Panel Mount |
| | Color: | Black |
| | Monitor Size: | 50" - 83" |
| | Range of Motion: | 180º Side to Side |
| | Wall Proximity: | 4.5" (pushed flat) |
| | Max. Load: | 200 lbs. |
| | Suggested Retail: | $499.99 |